Amazon Echo Show and the Google Nest Hub Max work the same as a smartphone. For example, your smartphone can be connected with the security cameras in your home, it can be used to make video calls and stream movies right from Netflix. But you still need either the Amazon Echo Show or the Google Nest Hub Max because your phone cannot multi-task. Additionally, streaming movies from a smartphone is hectic because of the small screen size at least when compared to the large screen devices like the Amazon Echo Show and Google Nest Hub Max.
The two devices allow you to retain your smartphone for other important businesses, and the big question is which one should you settle with. Settling with a smart device is never hard to choose because we all love the one that features the most advanced specs, we however have individuals who prefer settling with a particular brand. So, whichever category you use to evaluate smart gadgets below is a thorough evaluation of both the Echo show and the Nest Hub, to help you make an informed choice.
What are the differences between the Amazon Echo Show and the Google Nest Hub Max?
| | | | | | |
| --- | --- | --- | --- | --- | --- |
| Features | Display | Dimensions | Weight | Finish | Check on Amazon |
| Amazon Echo Show | 10 inch | 246 mm x 174 mm x 107 mm | 62.2oz | Durable textured carbon fiber finish | |
| Google Nest Hub Max | 10 inch | 250.1 x 182.6 x 101.23mm | 1.32kg | Chalk/ Charcoal | |
Amazon Echo Show vs. Google Nest Hub Max- How do they compare?
Amazon Echo show is bulky in terms of design. Its aesthetics are not as pleasing as that of Google's Nest Hub. The nest hub max occupies a small footprint and features a unique design that separates the speaker from the screen. The Echo show on the other end has an extended block at the back, which makes it occupy a larger footprint.
The design of the Echo show could impose some restrictions on placement compared to the Nest hub max. In essence, the Google Nest Hub sports an easy to discern design and positioning. Also, it is easier to deploy and place due to its small footprint.
Google and Amazon are serious rivals and produce competitive products and services, including voice services. Google has Google Assistant, while Amazon has the Alexa assistant. In this case, the differences between the two are pretty significant and worth your consideration. Google Assistant is known to resolve the natural language better than Alexa.
Alexa, on the other hand, gets confused easily even when the speaker phrases the sentences naturally. The voice service is, however, highly versatile, thanks to third-party support. The voice assistant is equipped with various skills that enable it to perform other extensive tasks such as making phone calls, ordering food online. It can also entertain your kids better than Google. The above features are what make Alexa a better voice assistant compared to Google Voice Assistant.
When it comes to camera performance, Google Nest Hub max takes the cup because it has been intelligently configured to capture images anytime. It can easily detect movement or noise. The intelligent device can work even better if you integrate it with your smartphone. It even knows when you are home or not. This enables it to provide relevant information when needed.
The camera incorporated in the Echo Show is also highly functional and will allow you to stay in touch with family and friends in over 150 countries. It gives you a chance to make calls to friends and family that have skype. The unit easily integrates with other devices in your home. You can, therefore, use it to make voice calls and send messages.
Amazon Echo Show

(2nd Gen)

vs. Google Nest Hub Max- A comparison Overview
Well-designed with a 10.1-inch screen, the Amazon Echo show offers an immersive and entertaining experience. The unit has been equipped with high-functioning speakers designed to deliver an expansive stereo sound.
You can even operate the unit hands-free by giving it voice commands. Alexa will run different errands on your behalf, like retrieving movies and TV shows. The voice assistant can also retrieve music and some song lyrics from the pre-installed music applications. The Echo show device takes the security of its clients seriously. It ensures that you can protect yourself even when using the smart device.
Echo show allows you to access, listen and delete your recordings, and you can also turn on or off the microphone and camera for safety purposes.
Pros
The screen can be viewed from far
Hands-free customization makes it easy to use
It is the best kitchen companion, with the ability to download mouthwatering recipes
Can connect to wired Ethernet
Cons
Making video calls is not as easy
Problems with Alexa finding things online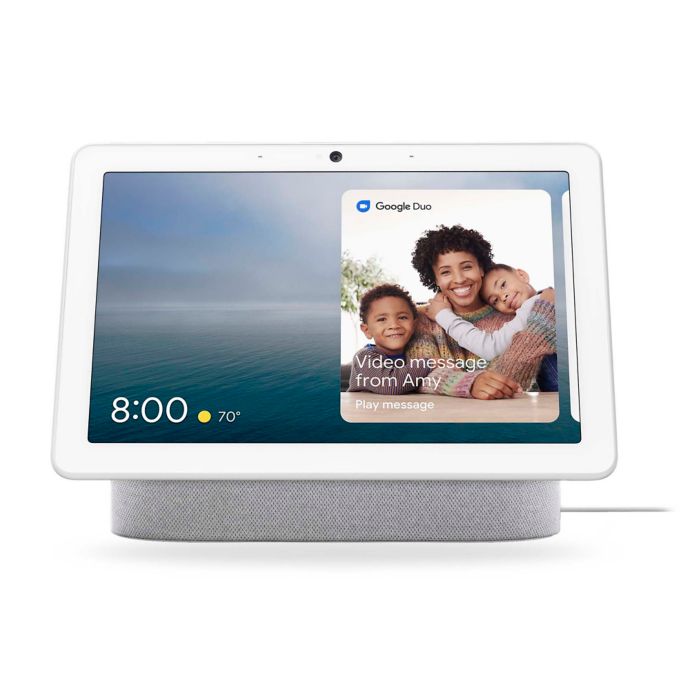 In a sophisticated black outfit, the Google Nest Hub Max offers the best features and performances. For example, its audio performance is impeccable in that it can discern your voice even when you are voicing commands with loud music playing in the background.
The incorporated camera can be used to make video calls on Google duo, and even better is that you will be able to enjoy a wide-angle display thanks to the Auto framing feature. To explore its full benefits you can download the nest app on your phone and use your phone as a smart home camera. Most of the services on the Nest Hub Max have been limited for example streaming Netflix is impossible.
And even though you can access YouTube, you will not be able to interact with the navigation features. Given that the unit cannot access Netflix, you can access other interesting content from Google play video content or YouTube.
Pros
The brightness settings change to match the lighting in the immediate surrounding
It is easy to set up and use
The next hub camera captures images when it detects movement
The Nest Hub Max can pick up your voice in a busy environment
Cons
It has a low screen resolution
The Nest Platform support is not the best
Verdict: So which one is better-The Amazon Echo show or the Google Nest Hub Max?
The Google Nest Hub Max is the better unit because the incorporated voice command can easily resolve the voiced commands and retrieve the needed information. It features the best aesthetics and retails at a budget-friendly price.
FAQ's
Can I watch TV on the Amazon Echo show?
Yes, you can watch live TV and even stream prime videos and live videos.
Does the Google Nest Hub Max support live TV?
No, it does not support live TV but you can use the built-in chrome cast to stream from the supported services.
Disclaimer: Rated Gadgets is a participant in the Amazon Services LLC Associates Program, an affiliate advertising program designed to provide a means for sites to earn advertising fees by advertising and linking to Amazon.com. We also participates in various other affiliate programs, and we sometimes get a commission through purchases made through our links.